Bruschetta is one of the quickest and easiest things in the world to make, yet it can be outstandingly delicious if you use fresh ingredients. It is an Italian appetizer and its name means toasted bread with toppings.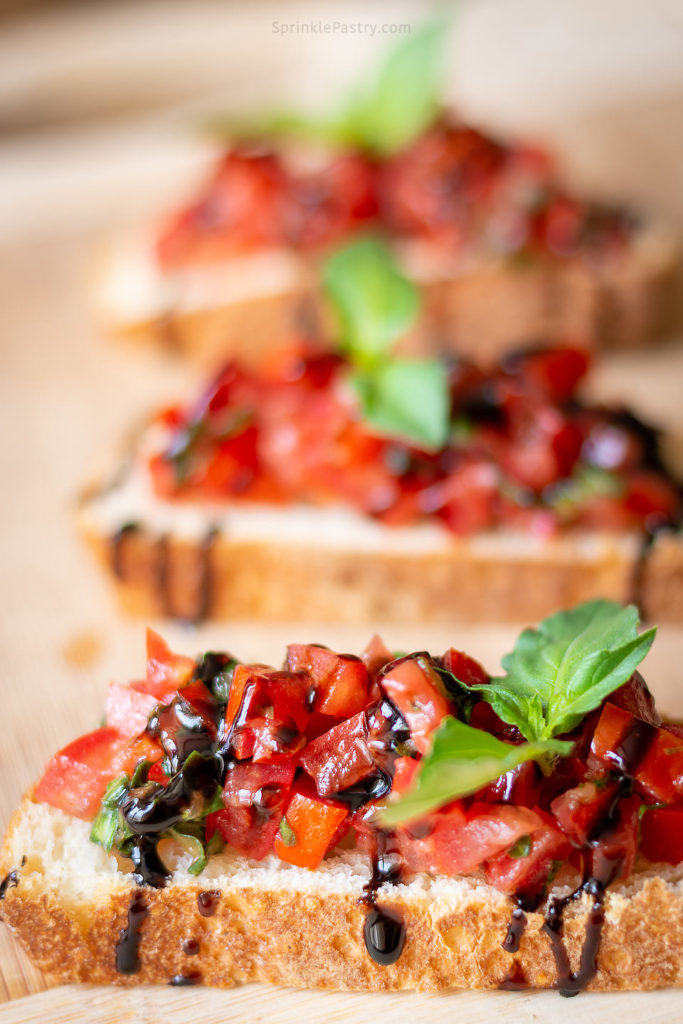 I love this authentic and beautiful bruschetta because it's a combination of my favorite flavors and textures; Tomatoes, basil, garlic, extra virgin olive oil on top of a slice of toasted bread and final drizzle of balsamic glaze. What more could I wish for?
I make these all summer long and would eat them as dinner, breakfast (seriously!) or prepare them for my evening guests.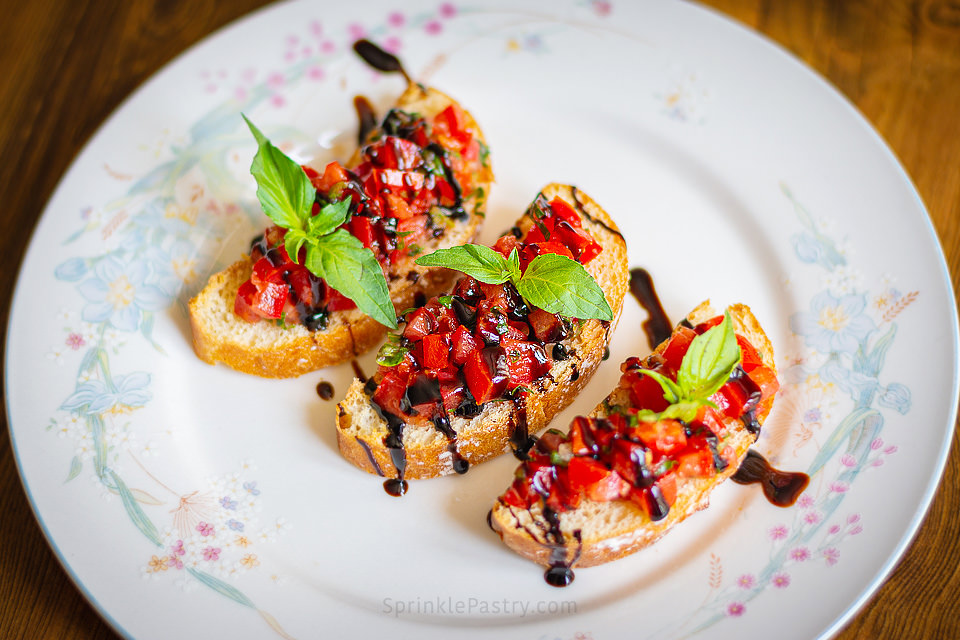 Making Ahead
The good news is that you can make the tomato topping a few hours before and keep it in the refrigerator until you are ready for it. Add a little extra fresh basil and then pile onto the toasted breads.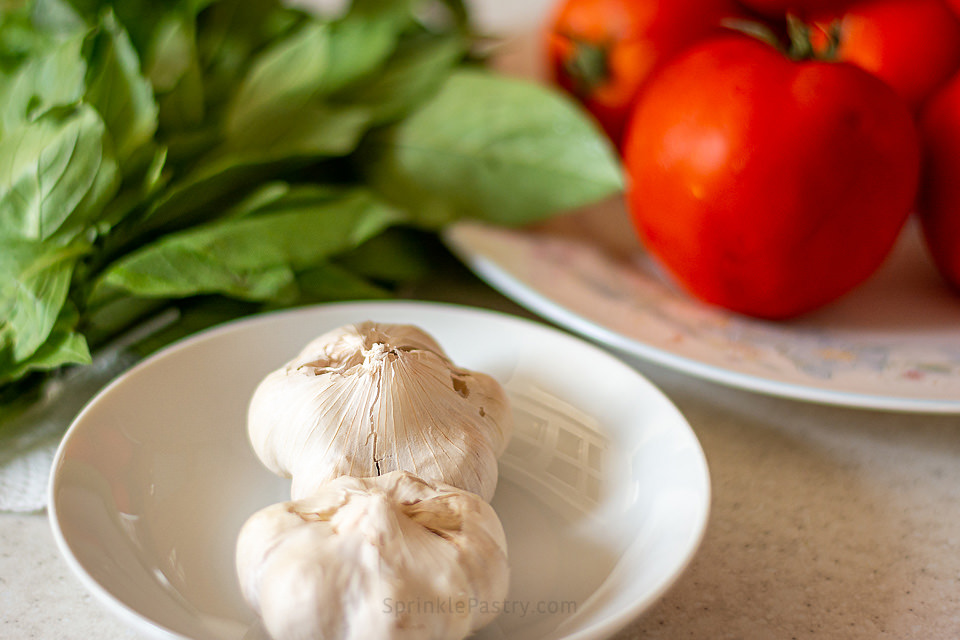 You can even toast your bread slices ready in advance, and keep them in an airtight container.
How to toast the bread
You can use two different ways to get the bread crisp. Using the oven or grilling.
Toasting Bread In Oven
Preheat the oven to 200 degrees C. Cut the bread into 1.5 centimeters slices and lightly brush with olive oil. Bake until lightly toasted.
Grilling The Bread
Place the bread slices on the grill for a few minutes on each side (flip when you're starting to see slightly charred grill marks).
The Best Bread Type For Bruschetta
The best bread to use is an Italian loaf made with a starter. It's great for bruschetta because it has a crisp crust & the smaller, more hearty interior perfect for grilling then topping. Although you can use french baguette or any good crusty bread which doesn't have lots of big holes.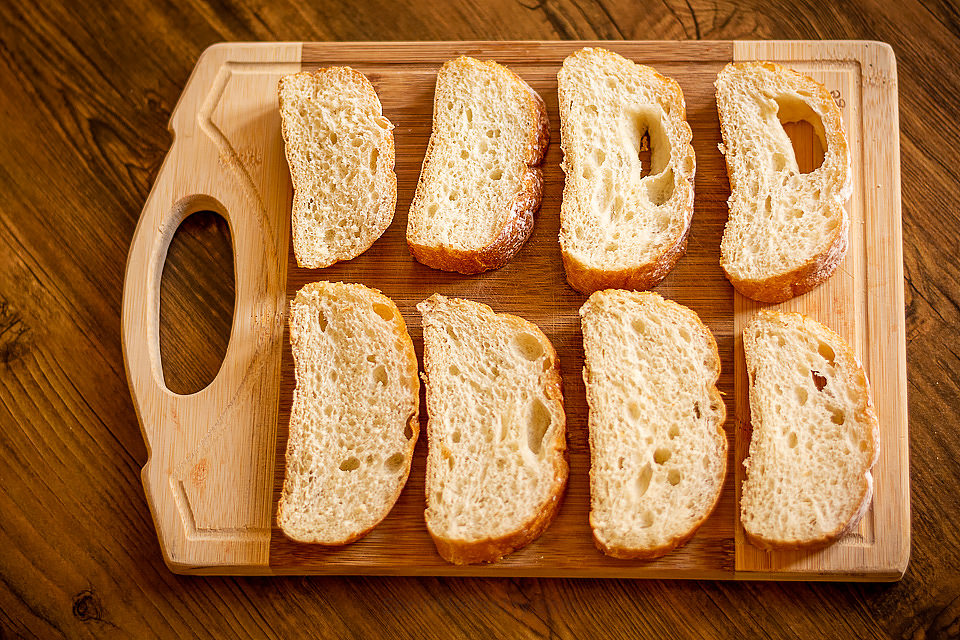 Recipe Tips
Use ripe tomatoes because the quality of the tomatoes makes all the difference.
If you want a drier topping, remove the seeds and centers from the tomato before dicing Just like you can see in the image ( I use them in my cooking later).
Use your very best extra virgin olive oil for this recipe; the difference will be definitely noticeable.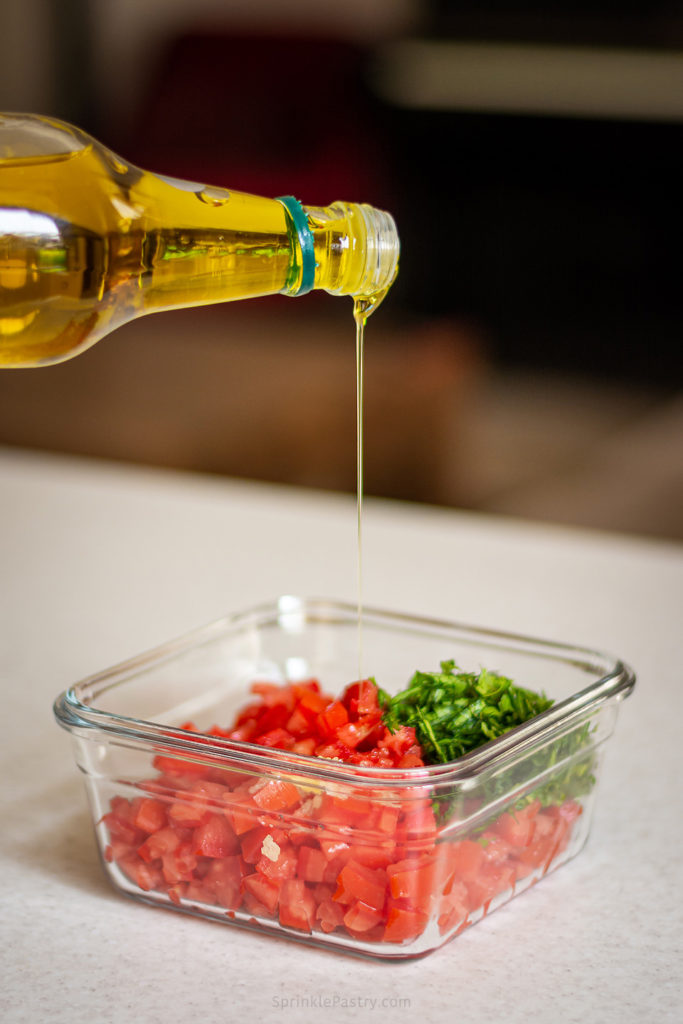 If you have time, make the tomato mixture in advance and let it sit in the refrigerator. This will allow all the flavors to develop.
If you cannot find balsamic glazé you can make your own balsamic glaze at home or just simply leave it off.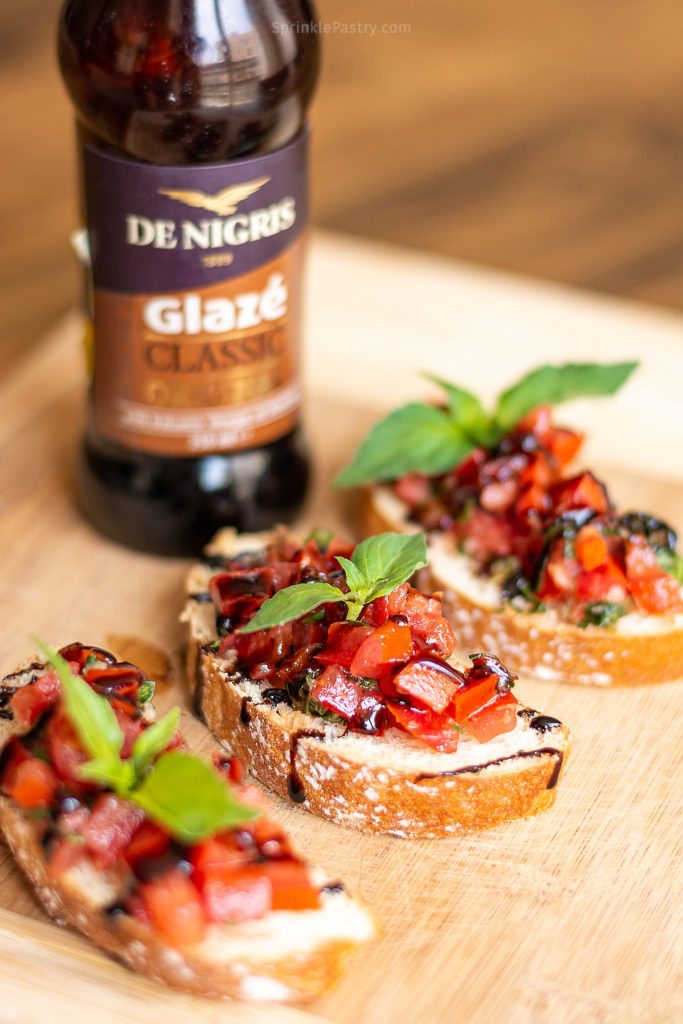 Bruschetta is one of the quickest and easiest things in the world to make, yet it can be outstandingly delicious if you use fresh ingredients.
Ingredients
500g ripe tomatoes, about 5

1 teaspoon (3 g) finely minced garlic

¼ cup (5 g) thinly sliced basil leaves

2 tablespoon (30 ml) extra-virgin olive oil, plus more for brushing

½ teaspoon (3 g) salt, plus more for seasoning

¼ teaspoon black pepper

2 teaspoons (10 ml) balsamic vinegar and balsamic glaze for drizzling

1 Tbsp white onion, finely minced

1 (364 g) Italian loaf, french loaf, or baguette
Directions
Preheat the oven (or a gas grill*) to 200 degrees C.
Slice your bread on the diagonal into pieces no wider than 1.5 cm. Lightly brush both sides of each slice with olive oil. Place the slices in a single layer on your prepared baking sheet and bake them on the middle rack for 6 to 9 minutes, until they're crisp and nicely golden on top. Transfer the toasts to a serving dish and set aside.
Cut the tomatoes lengthwise, removing the core and seeds (see the images). Chop the tomatoes into 6 mm dice. Transfer to a medium bowl.
To the bowl of tomatoes, add the minced onions, basil, balsamic vinegar, garlic, ½ teaspoon salt, and black pepper. Stir to combine.
Add 1 tablespoon olive oil to the mixture, stir to combine. Taste and season with salt and pepper as desired. Set the mixture in the fridge for at least half an hour to marinate.
Top each toast with tomato mixture, tipping your spoon against the bowl to release excess juice as necessary. Lightly drizzle a couple of tablespoons of balsamic glaze on top. Bruschetta is best served promptly.