Cream roll cakes Always bring me back to my childhood memories when we didn't have many choices of sweets, but these were our all-time favorite. The softness of the sponge and pleasant sweetness of vanilla-flavored cream filling would make us want to eat 5 slices in a row.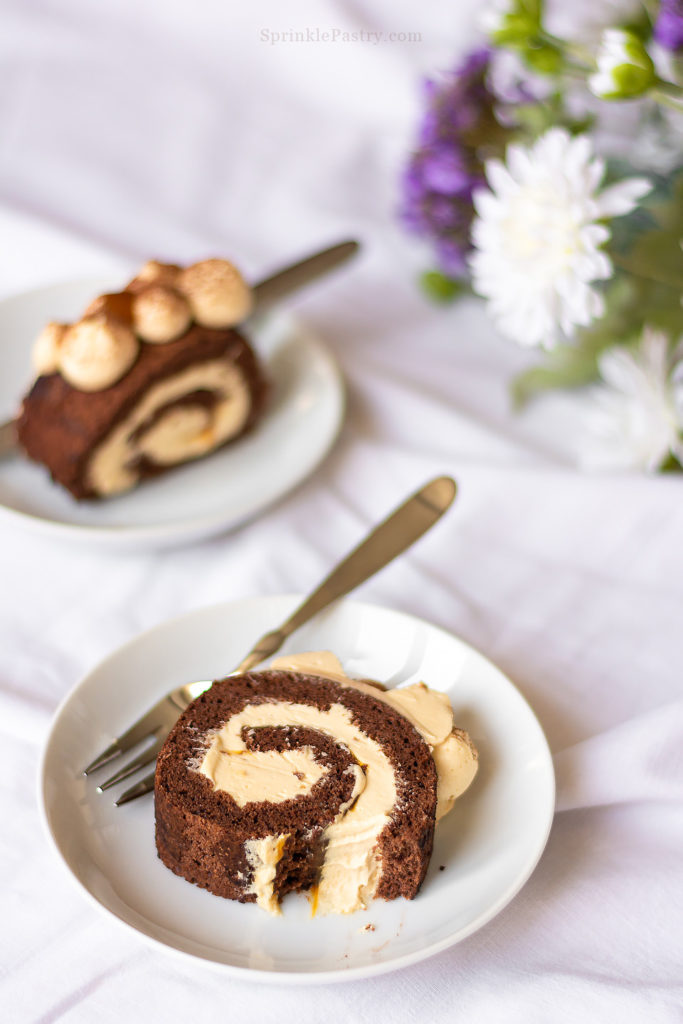 Last week I decided to make my favorite chocolate sponge and roll it with salted caramel cream filling which turned out heavenly (as I expected).
I tried different recipes for roll cake, using vegetable oil vs softened butter, and even without any fat and I ended up with using melted butter for a proved and moist chocolaty sponge. In my opinion, the worst chocolate sponge cake is the rubbery one and I promise with following this recipe you wouldn't face that.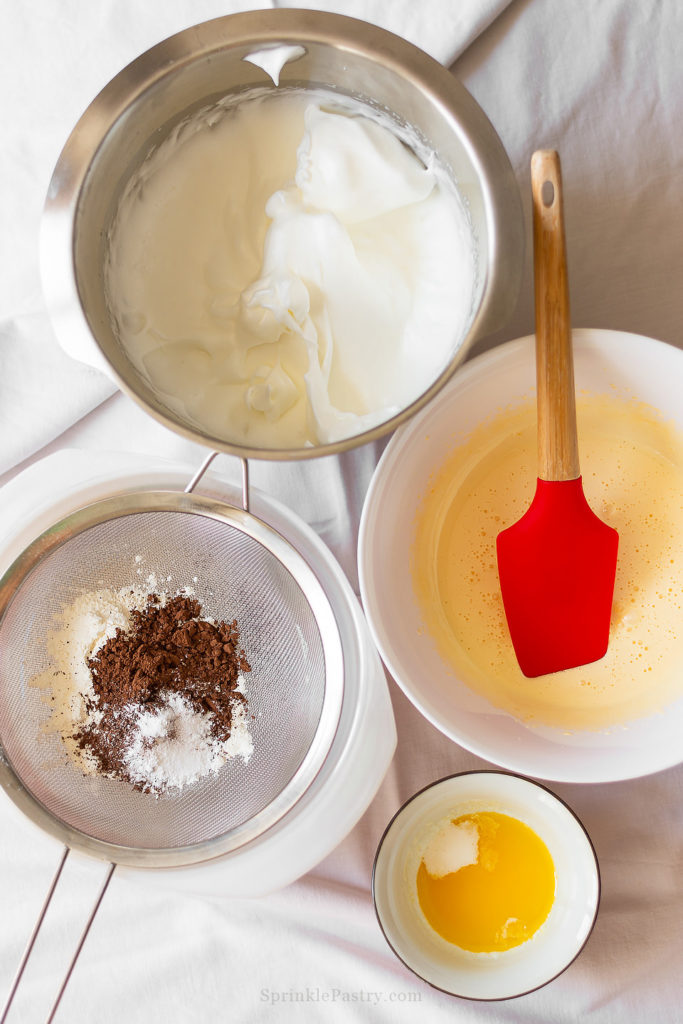 For the filling, I chose Salted caramel cream because of two reasons. Fist, I believe that one would never go wrong with the combination of chocolate and caramel, and second I wanted to encourage you to make your own heavenly salted caramel sauce from the recipe I shared before.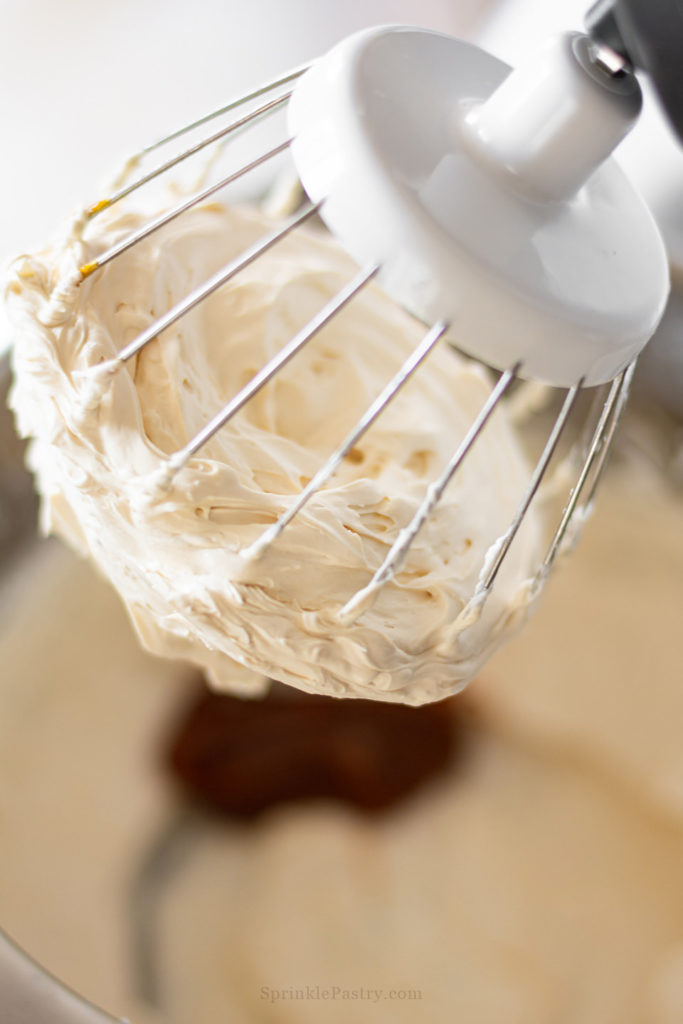 How To Make The Sponge Roll
Separate the eggs: We will need 3 eggs, both yolks, and whites!
Whip the whites and white sugar: Make sure egg whites are in a clean glass or metal bowl and that there are no stray yolk or fat particles, which can prevent proper whipping. Using an electric mixer start beating and gradually add your sugar. Continue to beat the eggs until the tips of egg whites curl when beaters are lifted. Do not overbeat the whites we don't need them too stiff.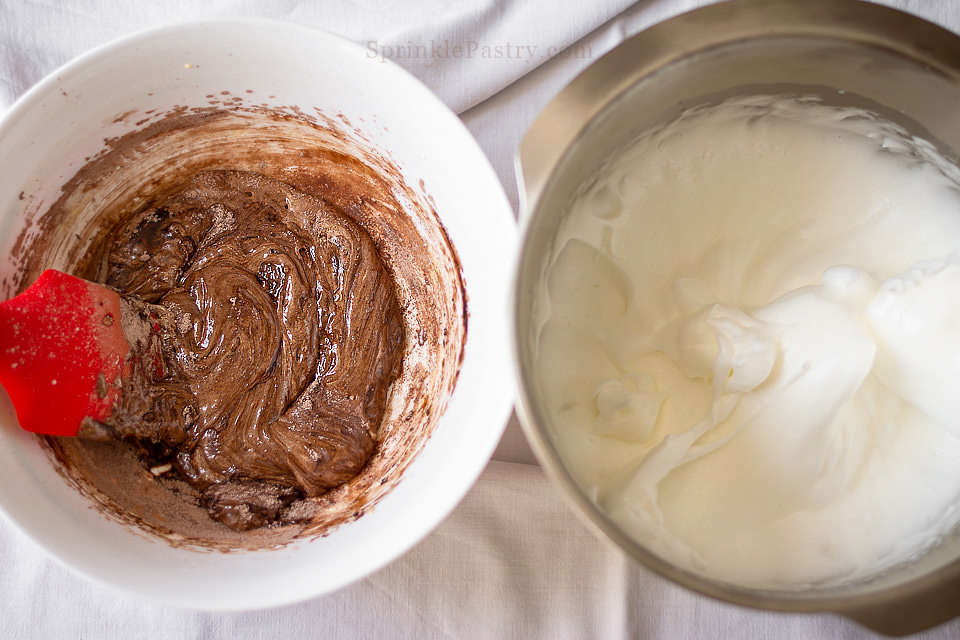 Sift dry ingredients: One of the most important steps in this (and almost every sponge cake) recipe is to sift the dry ingredients together.
Add wet ingredients: pour egg yolks over the dry ingredients, then add the melted butter and espresso
Fold in egg whites: Using a rubber spatula, fold in the egg whites. Do this slowly and gently as you don't want to deflate the batter.
Bake: Spread the batter into the baking pan, tap the pan on the counter a few times. Doing so will bring the bubbles to the surface and level out the top of your cake. Bake for only around 10 minutes. This is a very thin cake!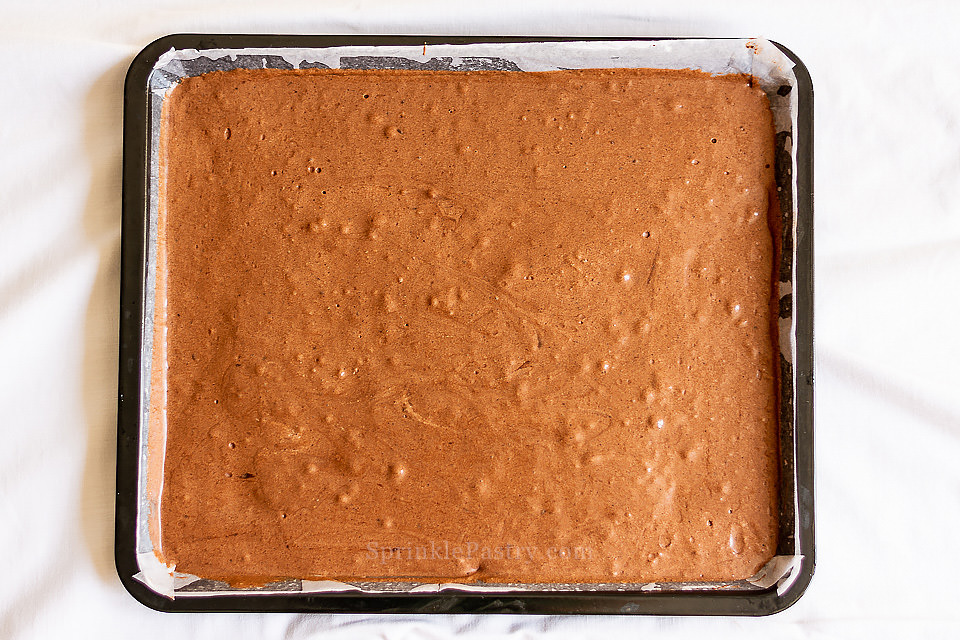 Invert the cake: Spread out a piece of parchment paper or a kitchen towel on a work surface and sprinkle evenly with cocoa powder, (this stops the roll from sticking to the paper). Turn or invert the pan onto the new parchment paper, and then carefully remove the tin and parchment paper from the bottom of the cake.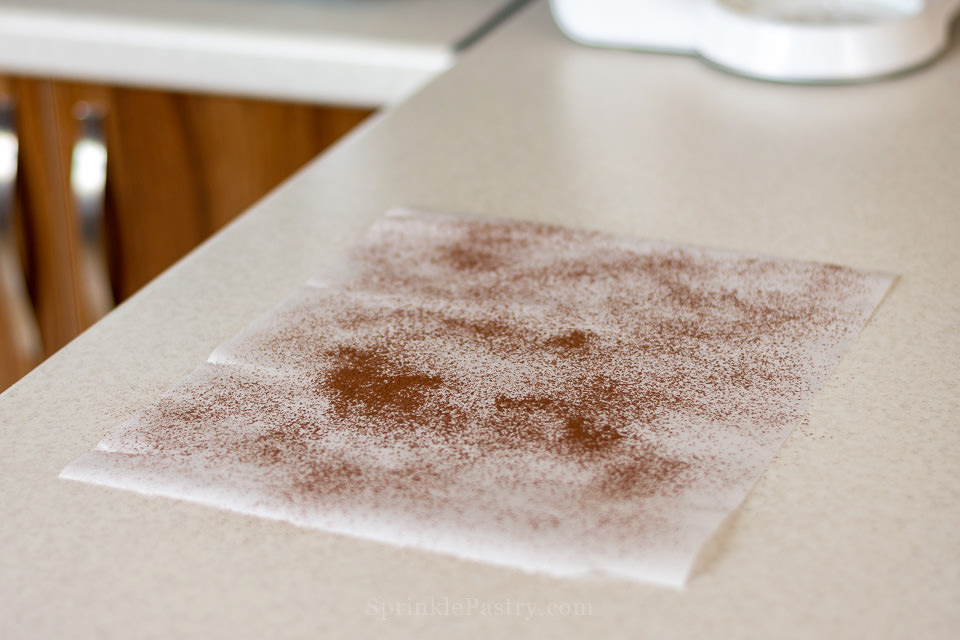 Roll up the cake and let cool: Gently roll the cake up with the parchment/towel. Let it cool in the rolled-up shape.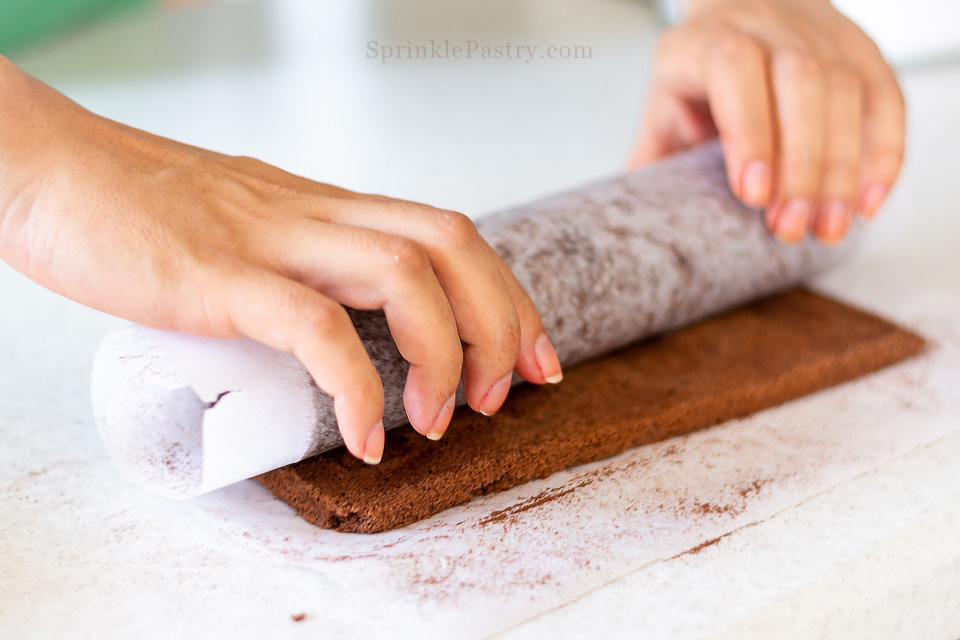 Assemble: Spread whipped cream and roll the cake back up.
Assembling The Roll Cake
Once your cake is completely cool, unroll it and fill with homemade caramel whipped cream. You can add any flavor to your cream instead of caramel but I highly recommend you try this once.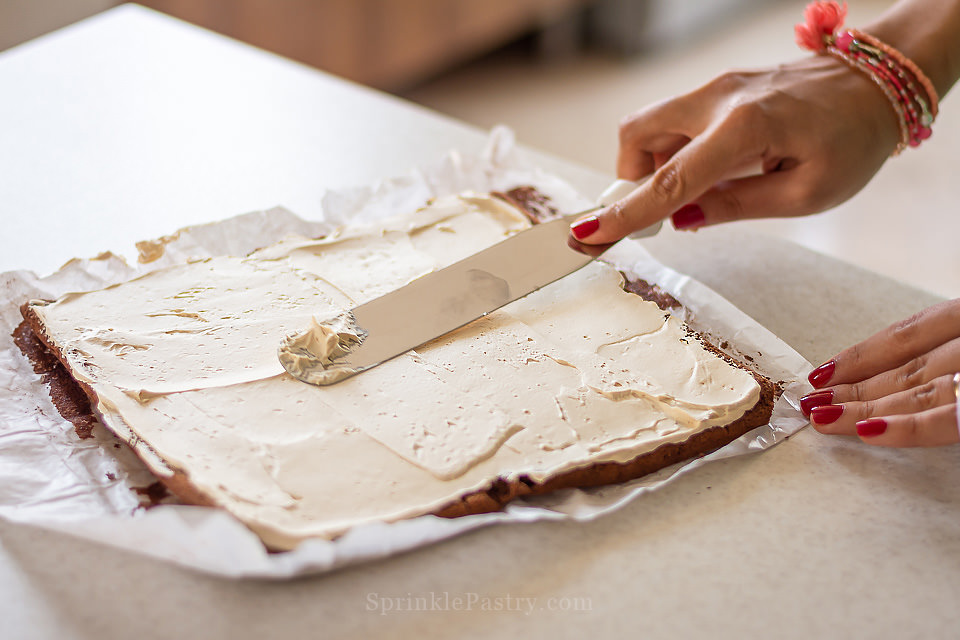 Spread the filling evenly over the surface of the cake. Drizzle some caramel sauce on top of the cream for an extra deep salted caramel flavor. Re-roll the cake, then refrigerate for at least 1 hour before serving.
Decorate your cake roll with the cream leftovers, cocoa powder and caramel sauce to your desire.
Chocolate Caramel Cream Roll
Course: Desserts
A decadent and irresistible chocolate roll filled with homemade salted caramel cream.
Ingredients

3 large eggs, separated

80g granulated sugar (2x40g)

1 Tablespoon (15ml) strong brewed coffee *or* 1 teaspoon espresso powder

45g unsalted butter, melted

1 teaspoon pure vanilla extract

47g all-purpose flour3 Tablespoons natural unsweetened cocoa powder, plus 2 Tablespoons (10g) for rolling*

3 Tablespoons natural unsweetened cocoa powder, plus 2 Tablespoons (10g) for rolling*

1 teaspoon baking powder

1/4 teaspoon salt



Salted caramel cream

250 ml whipping cream

¼ cup salted caramel sauce
Directions
Line a 12×10-inch (20×30-cm) baking pan with parchment paper; lightly oil paper with cooking spray or butter and set aside. Preheat oven to 350 degrees F(177°C).
Add 40g of sugar to egg whites; beat on medium speed until soft peaks form. Set aside. In another bowl, beat the egg yolks, another 40 g of sugar, and vanilla extract together until pale and creamy, about 2 minutes.
Sift the flour, cocoa powder, salt, and baking powder together. Add the dried ingredients, melted butter, and coffee to the egg yolk mixture and mix until combined ( with hand or electric mixer).
Using a rubber spatula, gently fold in the egg whites in 2 steps until completely combined. Avoid over-mixing.
Carefully spread batter into the prepared pan. Bake for 10 minutes or until cake springs back when lightly touched. Cool for 5 minutes.
Dust a piece of parchment paper or a clean kitchen towel in the same size as your cake or bigger, with 2 tablespoon cocoa powder. Turn the cake out onto the paper. Gently peel off the waxed paper which the cake is baked on. Roll up cake in the new parchment paper, starting with a short side. Cool completely on a wire rack or in the fridge.
Salted caramel cream; Meanwhile, in a medium bowl, beat the cream on medium speed until it begins to thicken. Add the salted caramel; increase the speed to medium-high and beat until soft peaks form.
Assembly; Unroll cooled cake, spread filling on the cake, and roll up again(this time without the paper). Place the seam side down on a serving plate. You can decorate your cake with leftover cream or sprinkle with additional cocoa powder if desired. 
Notes
You can fill this cake roll with vanilla or chocolate (simply by adding 3 Tbsp cocoa powder to your cream instead of caramel sauce) whipped cream or any fruits of your choice and enjoy it.
Do not over bake your cake unless it could get dried and you would get into trouble with rolling it.
Using coffee is optional and it simply enhances the flavor of chocolate.