When summer gives you a bunch of beautiful and ripe peaches, make a light peach cake and experience heaven melting in your mouth.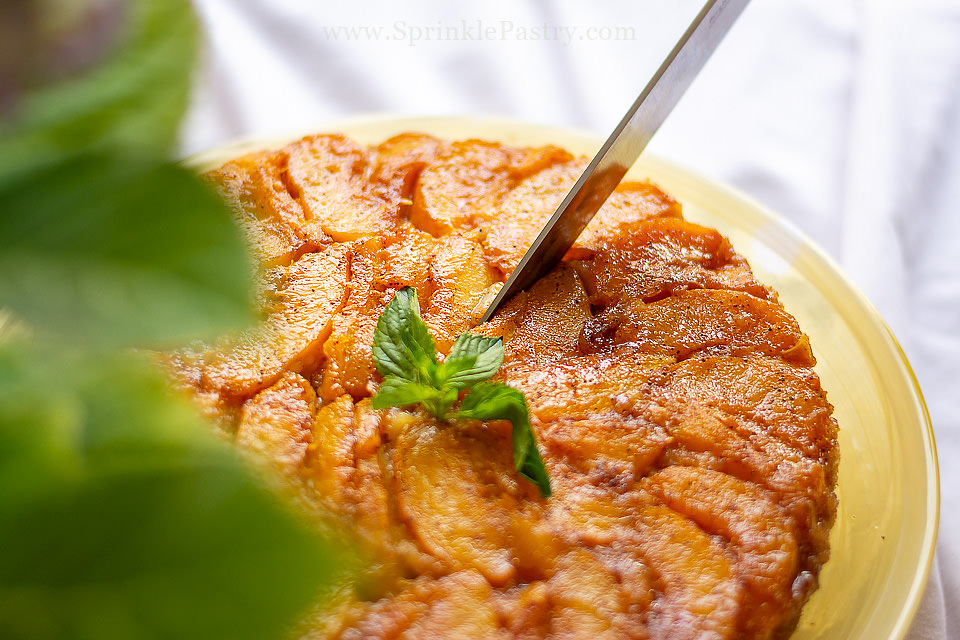 The subtle sourness of peaches, combining with the cinnamon and butter flavor on the top of a dense and moist buttermilk cake layer, makes you unable to get enough of this spectacular summer dessert.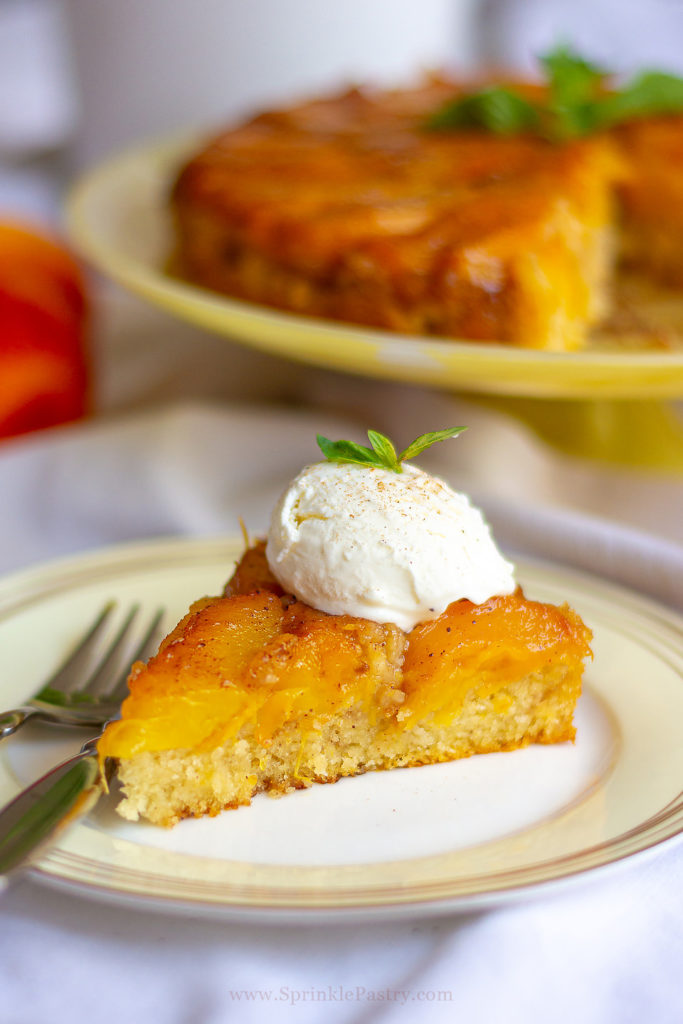 How To Peel Peaches
The first thing you need to prepare for your recipe is peeled and cut peaches.
First, use a knife to make an X cut on the bottom of each peach and set aside.
Prepare a bowl of ice and cold water.
On the stove, bring a pan of water to a boil. Gently place your peach in the pan of boiling water and leave it there for about 45 -60 seconds.
Using a slotted spoon, remove the peach from the boiling water, and immediately place it in the bowl of ice water, and leave it there for about 20 – 30 seconds. (This process stops the fruit from actually cooking).
Remove the peach from the ice water and gently cut the peel of the peach off using your fingers or a paring knife.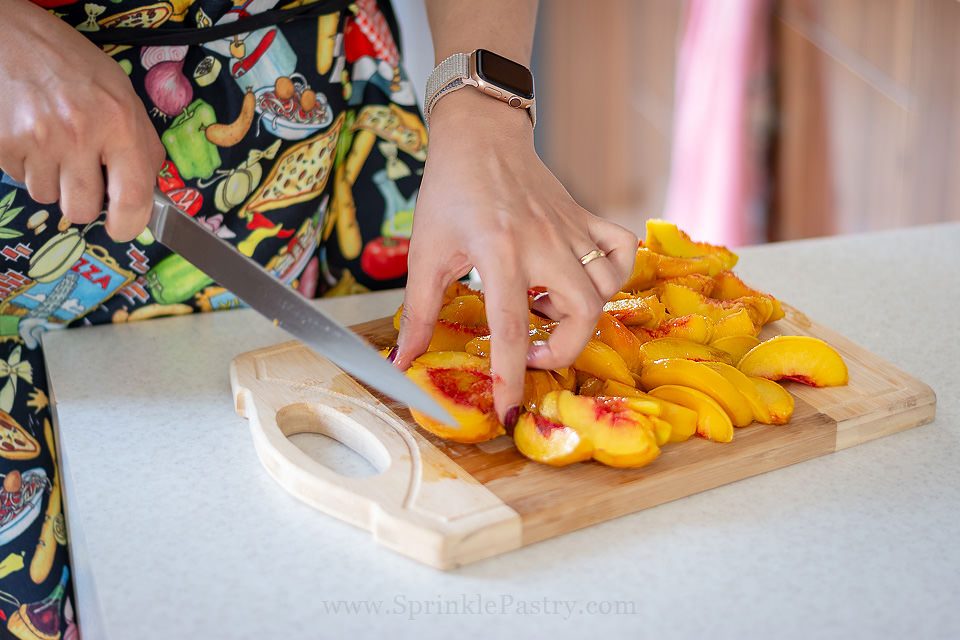 Upside-Down Cake Tips
If you don't have or can't find buttermilk, simply follow this instruction:
Pour 1 tablespoon of vinegar or lemon juice into a 1 cup measurer and then fill the rest of the measuring cup with milk. Then gently stir the mixture and let it sit for about 5 minutes.
You can use white sugar instead of brown sugar, but I recommend you try it with brown sugar for adding extra flavor.
Arrange your peaches on the bottom of the pan in a decorative way with the least space between them to get a gorgeous cake top in the end.
Make sure to mix everything only until they are incorporated and no more. Over-mixing the cake batter will make it tougher and chewier.
A slice of this heavenly cake will be best served warm, with a nice scoop of vanilla ice cream or whipped cream and sprinkled with cinnamon powder.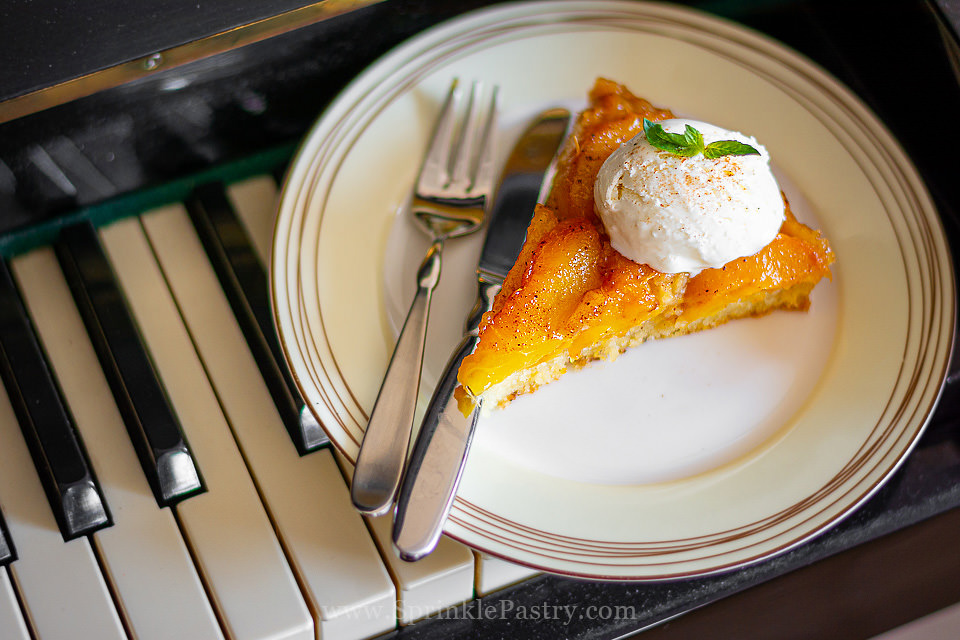 How To Store The Leftovers?
Upside-down cakes are best served warm, the day they're made and I doubt there will be any leftover. But you can cool, then cover and refrigerate the leftovers for 2-3 days or freeze them for up to 3 months. Warm a piece up in the microwave to reignite that caramel magic!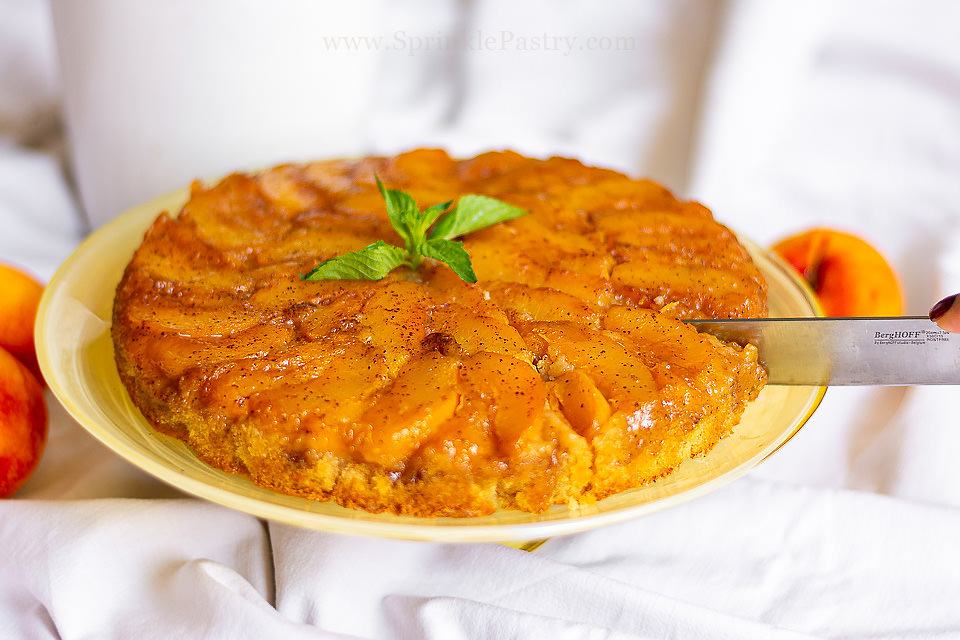 Upside Down Peach Cake
Course: Desserts
Difficulty: Challanging
Total time
1
hour
10
minutes
Ingredients
1/2 cup packed brown sugar

50g unsalted butter, melted

1/2 teaspoon ground cinnamon

5 medium peaches, peeled and sliced


Cake Batter

1½ cups (180g) all-purpose flour

1 teaspoon baking powder

1/2 teaspoon baking soda

1/4 teaspoon salt

1/2 teaspoon cinnamon powder plus 1/4 teaspoon for the top

100g unsalted butter

1/2 cup (100g)  granulated white sugar plus 2 Tbsp for the top

1 large egg

1 teaspoon vanilla extract

1 cup buttermilk*
Directions
Preheat the oven to 350 degrees F (175 degrees C). Grease a 9-inch springform pan and line it with parchment paper.
In a small bowl melt 50g of butter and mix it up with brown sugar and 1/2 teaspoon of cinnamon powder. Pour into the pan and arrange the peaches on top. Set aside.
In a small bowl combine the flour, baking powder, baking soda and salt and ½ teaspoon cinnamon powder, set aside.
In the bowl of stand mixer cream together the butter and 100g of white sugar with paddle attachment until pale yellow. Add the egg and vanilla extract; beat until combined. Beat in the flour mixture and the buttermilk in parts, alternately; beat until just combined.
Pour the batter into the pan and spread evenly over the peaches. Sprinkle your cake top with the mixture of remaining sugar and cinnamon powder. Bake for 35 to 45 minutes, until a cake tester or toothpick inserted into the center comes out clean. If your cake is not done, give it 5 more minutes. Cool for 10 minutes in the pan before inverting onto a serving plate. 
Serve warm with a scoop of vanilla ice cream and enjoy!
Notes
For getting to know how to make buttermilk refer to the recipe tips.