I love caramel flavor and to be frank with you, most of the time I prefer it to chocolate. Caramel sauce is extremely delicious and versatile and if you follow a few simple steps and tips you can have your homemade caramel sauce in less than 15 minutes.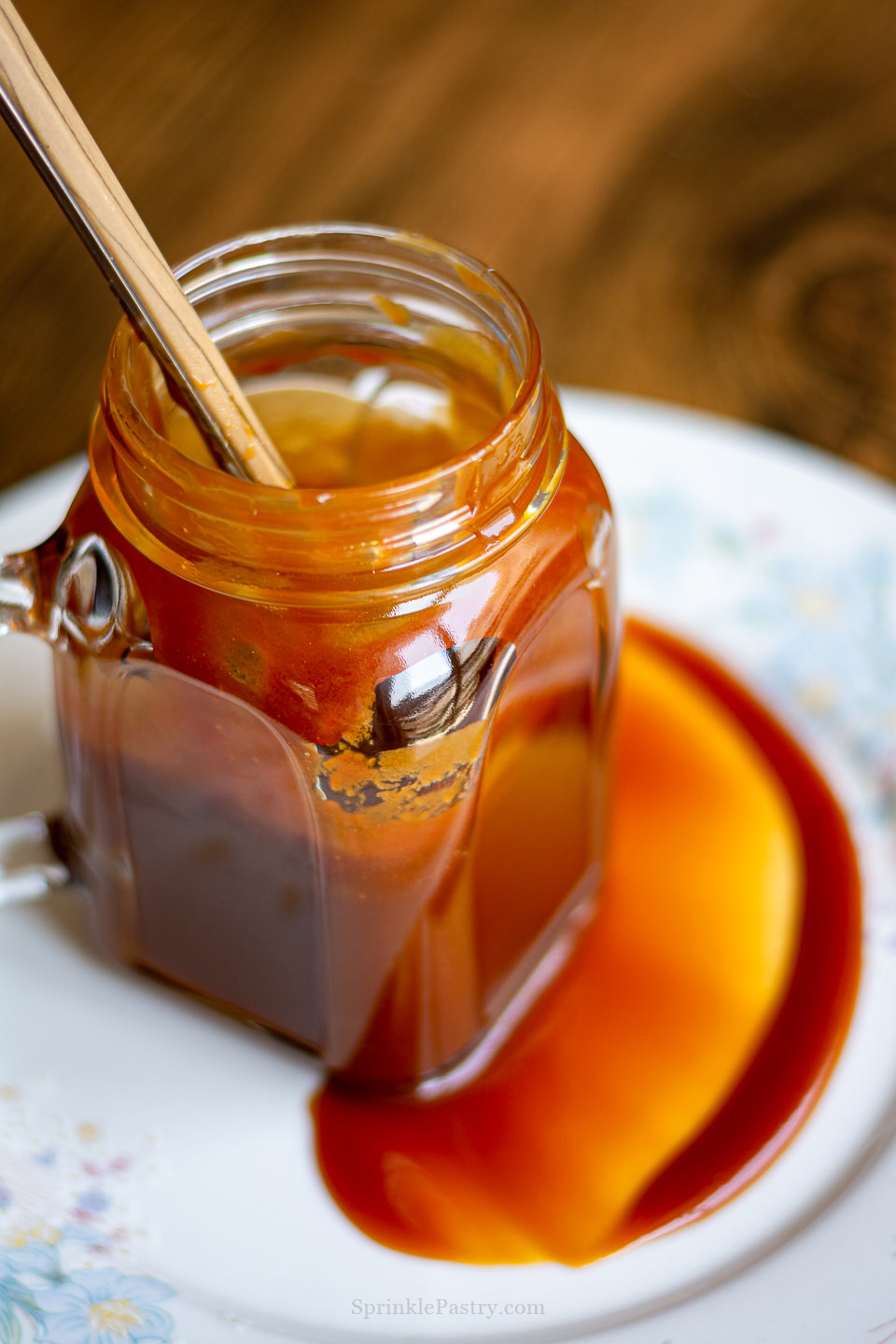 This delicious caramel sauce requires only 4 easy ingredients. When it's ready it is perfect for a wide variety of desserts such as cakes, cupcakes, cookies, ice cream, cheesecake and more.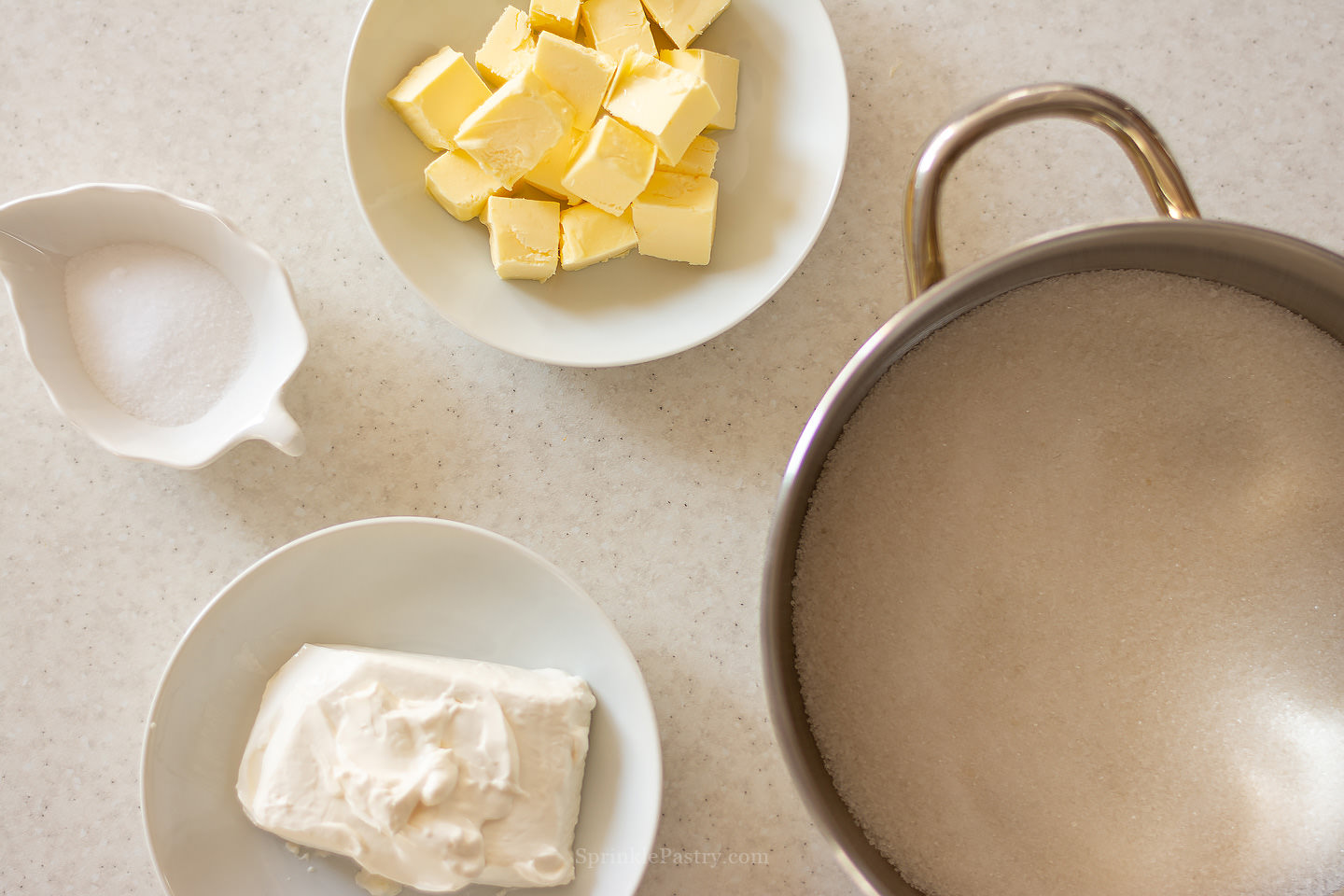 Basic Rules Of Caramel Making
Making caramel can be intimidating. The first thing you need to know about caramelized sugar is that it can reach temperatures more than 175°C (350°F) before it burns which means it is extremely HOT and it can absolutely stick to your skin and burn it and also it can splatter. So I would recommend you to put on long sleeves and if it is your first time making caramel, wear oven mitts and BE CAREFUL!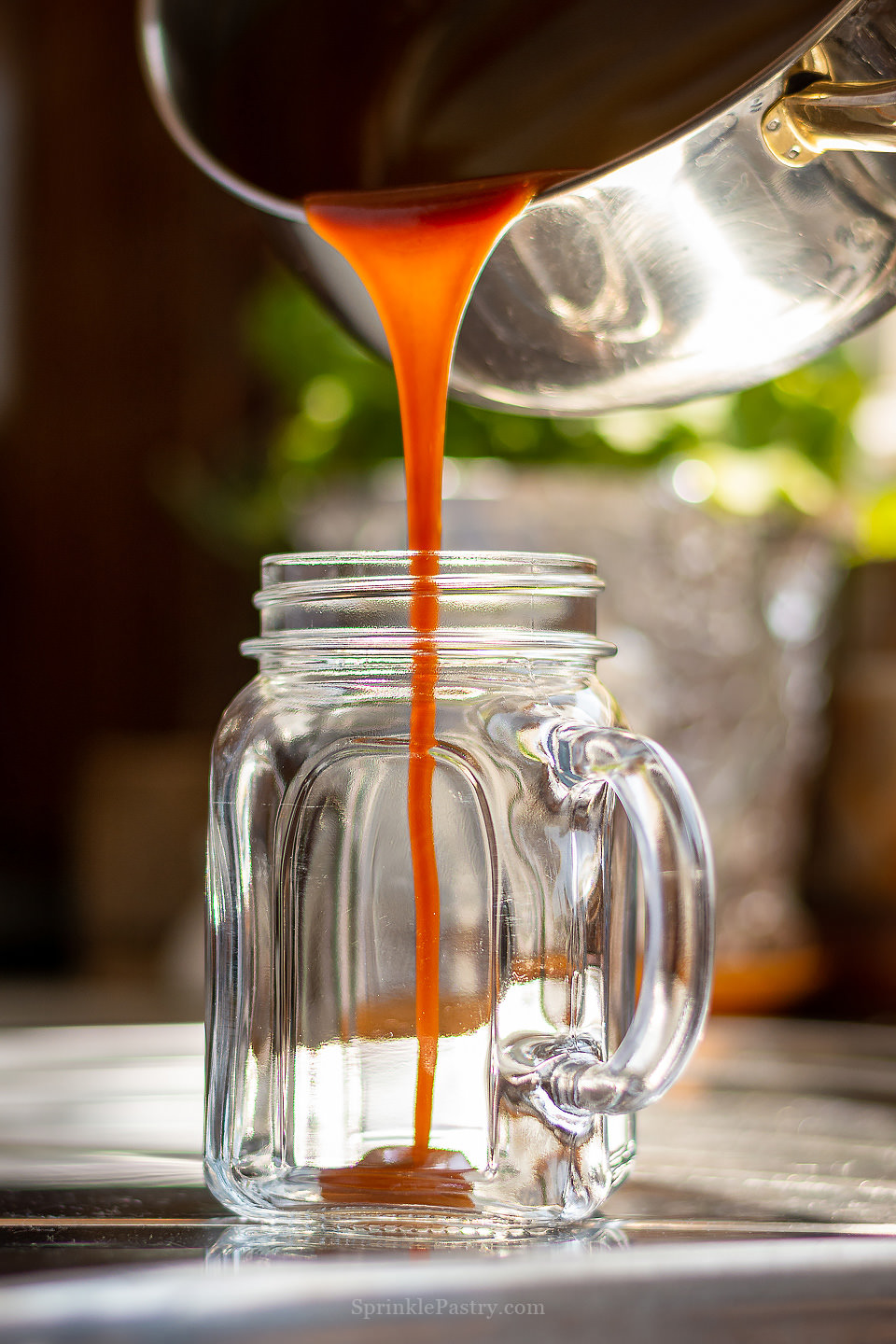 Use a big enough pan because once you add your cream, the caramel will bubble up and may overflow the sides of a smaller pan. You can easily clean the pan that has been used to cook caramel by filling it with water and heating it over high heat until the caramel has completely dissolved.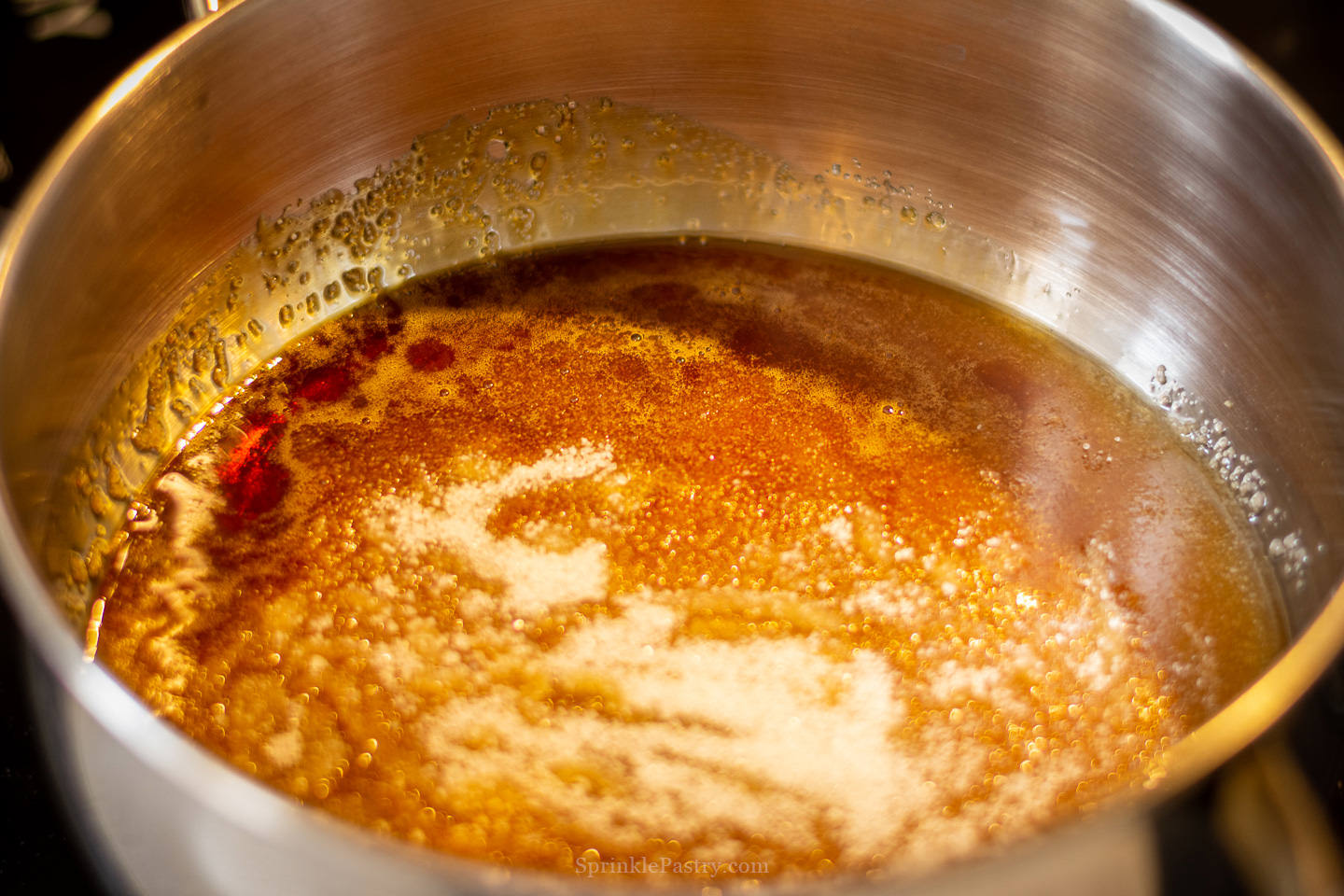 When Is It Done?
The biggest challenge when making caramel is to get it to just the right color which is deep amber with a nutty aroma. Perfect caramel should be cooked until it's dark, reddish-brown, and just starts to smoke. If it's not cooked enough it will be too sweet and tasteless, but cooking it too long will result in a burnt and unusable caramel.If you are new to making caramel use a thermometer. The caramel should reach 175°C (350°F) on an instant-read or candy thermometer.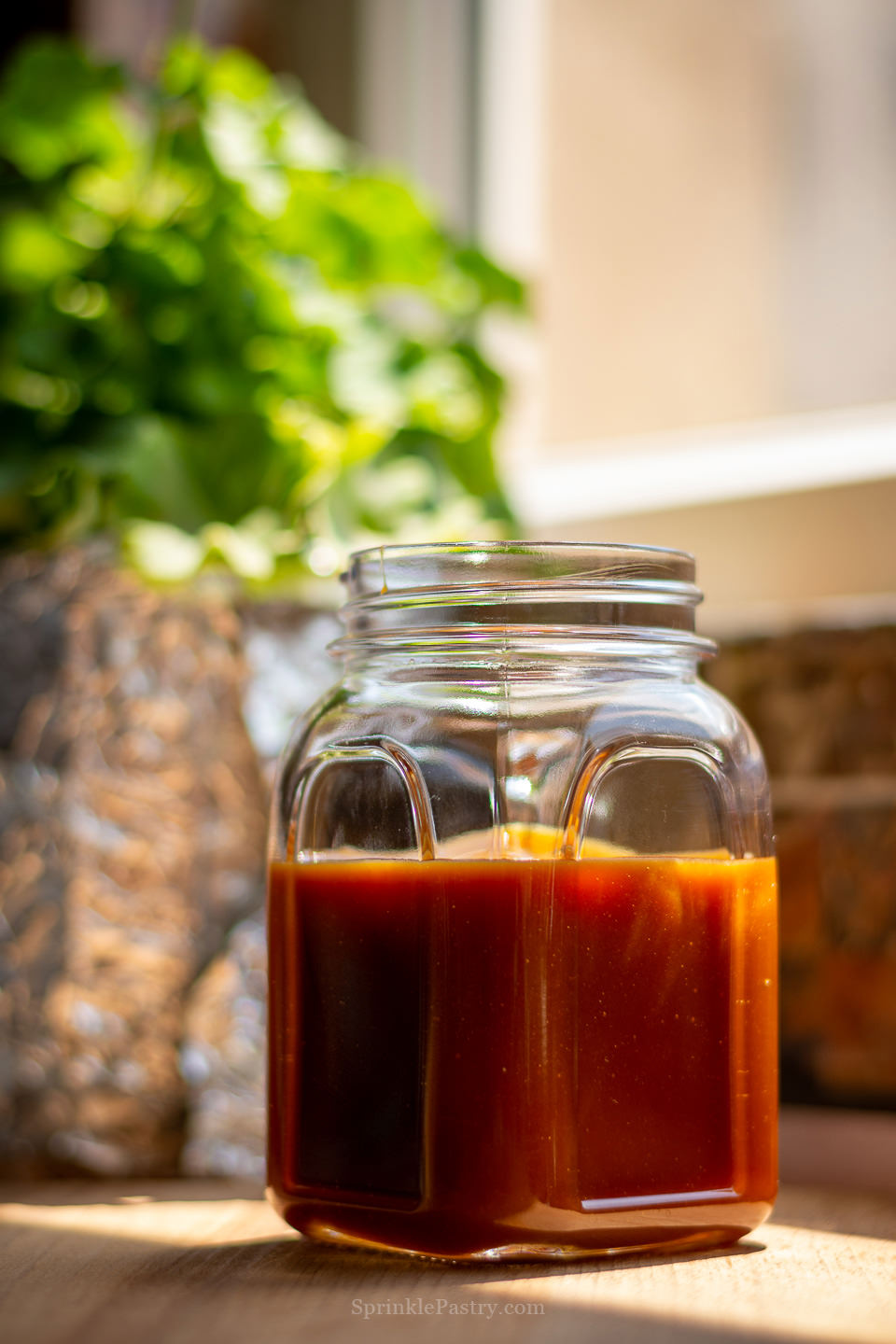 If you aren't able to obtain a thermometer, you can use visual cues for doneness and after you make caramel once or twice, you will get the hang of it.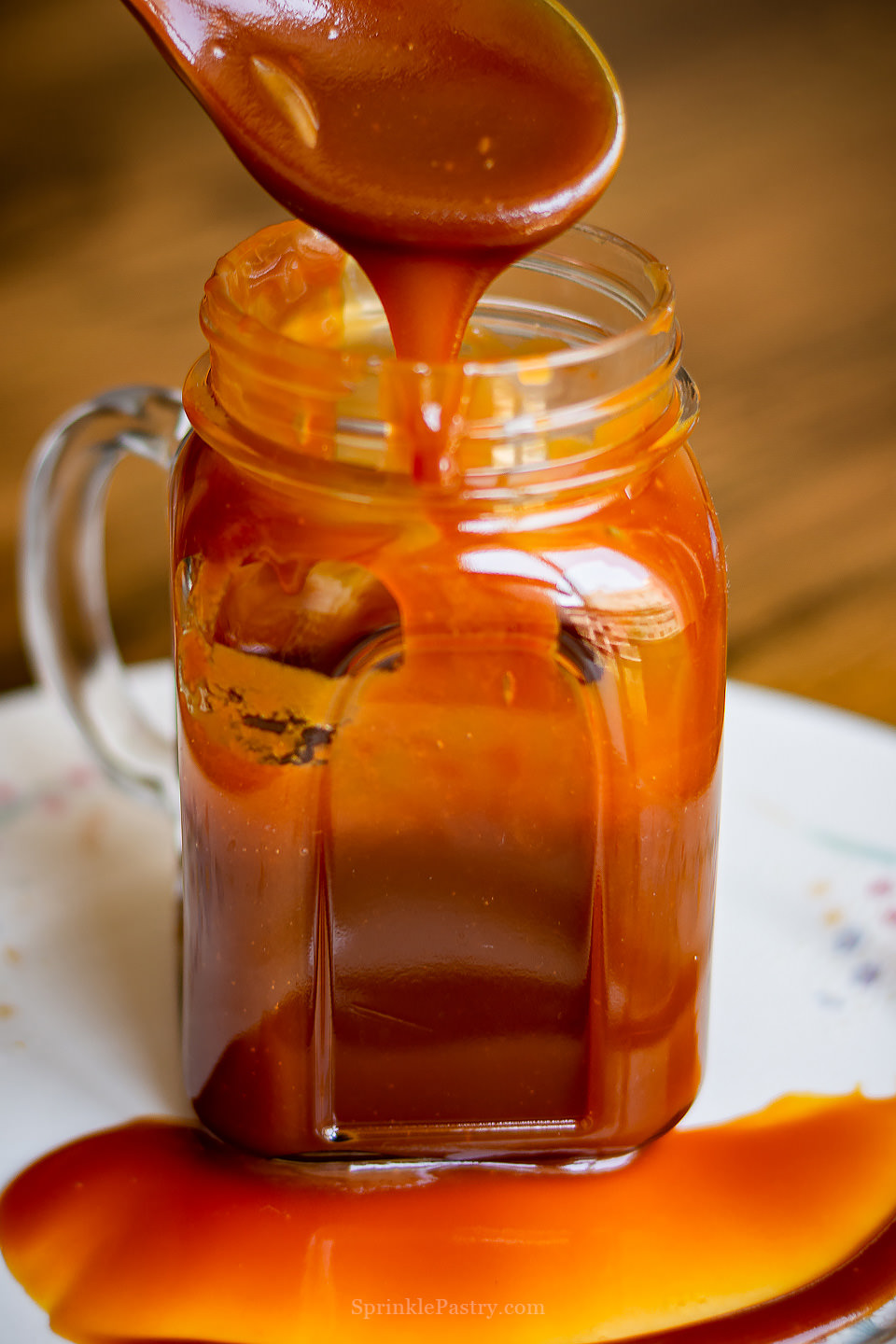 Salted Caramel Sauce
Course: Dessert
Cuisine: American
Difficulty: Easy
This easy salted caramel sauce recipe can be ready in 15 minutes and is perfect to keep in the refrigerator for ice cream or making thousands of different desserts and cakes.
Ingredients
200 g granulated sugar

85 g unsalted butter, at room temperature, cut into pieces

120 g heavy cream, at room temperature

1/2  teaspoon salt, or to taste
Directions
Spread the sugar in an even layer over the bottom of a medium (2 to 3 quart) heavy-bottomed saucepan or frying pan. Heat the sugar over medium-high heat, swirling the pan as it begins to melt. Avoid using a metal spoon for stirring because it will end up in a grainy sugar disaster. When the bottom layer of sugar melts completely, start whisking until all of the sugar has melted, and swirl the pan occasionally while the sugar cooks.
Continue cooking until the sugar has reached a deep amber color. It should look almost a reddish-brown, and have a slight toasted aroma. This is the point where caramel can go from perfect to burnt in a matter of seconds, so keep a close eye. If you are using an instant-read thermometer, it will be around 350 degrees F.
As soon as the caramel reaches its sweet spot, add the butter all at once. Be careful, as the caramel will bubble up when the butter is added. Whisk the butter into the caramel until it is completely melted. Remove the pan from heat.
Slowly add the cream into the caramel. Again, be careful because the mixture will once again bubble up ferociously.
Whisk until all of the cream has been incorporated and you have a smooth sauce. Add the salt and whisk to incorporate.
Set the sauce aside to cool for 10 to 15 minutes and then pour into your favorite glass jar and let cool to room temperature. The sauce can be refrigerated for up to 1 month.
Notes
To reheat the sauce, remove the lid from the jar and microwave for about 45 seconds, then stir. It should be smooth and pourable, but not piping hot.
This recipe is not suitable for canning or long-term storage, so it should be stored in the refrigerator for up to 1 month or freezer for up to 3 months.